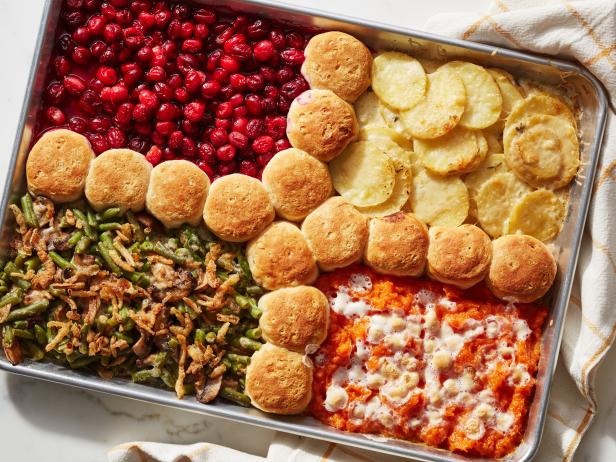 How to Cook Thanksgiving Dinner for Less Than $100!!! 😎😎😎
Between the grocery shopping, meal prepping, cooking and entertaining, Thanksgiving can be one of the most stressful days of the year. That's why we've pulled together a list of stress-free meal plan options that are perfect for feeding a family of four to six people for $100 or less, with plenty of options for accommodating a larger or smaller group. Whether you're in need of classic Thanksgiving recipes, playful appetizers and desserts or beverage pairings, we've got you covered.
To come up with the total cost of each recipe, we added up the average cost for purchasing the necessary ingredients and added 5% of the total on top for pantry staples such as salt, pepper, oil, sugar and flour. We cost out these recipes to reflect a median cost across the country, but depending on where you live, it's totally possible that your dinner could cost less or more (just keeping it real).
Consider this section full of the classic Thanksgiving dishes (think turkey, potatoes, green beans and Brussels sprouts). We've gathered recipes that cross-utilize ingredients so you can buy certain ingredients in bulk. This saves money and makes shopping a lot easier. Here's another useful shopping tip: ask your grocery store if it offers any deals when you spend a certain amount of money (many supermarkets will give you a free frozen turkey). If your store offers incentives, buy your groceries there in one or two big trips instead of several smaller ones.
The fully planned out meal for six people.
Skip the fuss of prepping and cooking an entire turkey and get just the turkey breast. It's perfect for feeding a household of up to 6 people.
There's no need to dirty a bunch of pots and pans or worry about oven space with this clever recipe that fits all your Thanksgiving sides on one sheet pan. All the classics are there: cranberry sauce, biscuits, potatoes and green bean casserole. Note: The biscuits called for in the recipe are no longer available, but you can substitute for regular-sized biscuits.
If you're in need of some stuffing to go with your turkey, Rachael Ray's stuffing in muffin form is a fan-favorite that enhances prepared stuffing mix with plenty of veggies, fresh herbs and sweet apples.